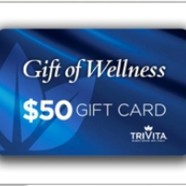 Are you intrigued by this offer of an introductory FREE $50 Gift of Wellness Card and would you like to know what benefits it offers?
Most likely you could be asking, "Is there a catch?"
My answer:  "No" and "Yes".
Perhaps you're wondering if there are any strings attached. I would like to assure you that there are none. Yet there is a catch. A good catch. My purpose is to introduce you, a first time customer, to TriVita, Inc., an Arizona-based wellness company that has been on a mission since 1999 to help people achieve a better quality of life through experiencing greater wellness. To achieve this goal, an important first step is to understand and focus upon your current state of wellness. So while you have no obligation to me once you have the card, I ask that you take a very brief wellness survey that will help you choose products that will best move you forward in your wellness journey. If you live in the United States or Canada and you've never tried any of its products or services, the gift card is for you. (It covers your product choices only and cannot be used for shipping, handling and taxes.) So about the catch…yes, you complete the survey, and then get the card. Now that's a good catch.
Having benefited personally from using a number of TriVita's products, I am proud to be a part of TriVita's family as an Independent TriVita Business Owner. I embrace its mission, and if you have never tried TriVita's offerings (and are in the US or Canada) this $50 Gift Card can be used for a plethora of physician-approved products.
As a highly-respected global wellness company, TriVita has been a leading proponent of wellness, adhering to a carefully developed and strictly followed code of quality, integrity, and innovation.
Indeed, to provide you with products that you need to achieve greater wellness is a tremendous responsibility — it's one that is taken very seriously at TriVita. That is why they have a team of Healthcare Professionals who guide and advise.
TriVita's products support optimal health because of the special care that is put into them. Following the high standard of their Ten Foundational Values, all of the products feature physician-approved formulas, unique nutrient delivery methods, natural ingredients and third-party testing and certification. This is the type of quality you can trust. This is especially reassuring since you may have heard news reports of the problems with low-quality, ineffective supplements. Since time is needed for the benefits of a product to be noticed, TriVita stands behind its products with a 60-day money back guarantee with a full refund or exchange, minus shipping and handling.
TriVita has 50 high quality products in the categories of
Foundational Health which can help revitalize and sustain every aspect of your health on a daily basis,
Targeted Nutrition for your individual wellness goals,
Weight Management~not just for weight loss.
A fourth category, Amazon Rainforest, is comprised of products formulated with prized ingredients from that botanically rich area of South America.These are beneficial in unique and intriguing ways.
So, again, if you live in the United States or Canada, and have never experienced TriVita's products, simply complete a short wellness survey here to receive the $50 Gift of Wellness Card. You'll be glad you did.
A Special Offer for Returning and Referring Wellness Seekers

Returning Wellness Seekers, don't be dismayed. There's a special reward for you.  You are highly valued and eligible to join the Premier Membership at
no cost
to you. Your benefits include the ability to earn VitaPoints which can be used for future purchases and services. The number of VitaPoints is based on your purchases, as well as on purchases of each new person that comes to TriVita upon your recommendation. VitaPoints are a great way to help those you know who are seeking greater wellness since the products are so effective and because they too can become Premier Members and offset the cost of products and the services available through the TriVita Wellness Center. You just need to call TriVita and ask to become a Premier Member. Do it now, even if you're not ready to order. You must ask to be a Premier Member to qualify for the VitaPoints. 
Premier Membership Info
Thank you for your visit.
Peggy Polonus
Independent TriVita Business Owner 13873775